Preparing for Hawaii
We are leaving for Hawaii on Saturday and I couldn't be more excited. My mind has been on packing and prep and for once I thought ahead and ordered some essentials instead of scrambling the day before takeoff. I'm fair skinned (read: pasty as F) and the first item on my list was high SPF sunscreen. I am picky about sunscreen smells, so I did a little research and settled on
Sun Bum SPF 50
and
Hawaiian Tropic Sheer Touch SPF 30
as they had the best reviews. Also just in case, I threw in a bottle of
aloe vera
.
Sun Bum SPF 50
smells like fresh coconut (amazing), and goes on a little white but that fades quickly. I didn't get any color in my test run, so the SPF works well. It's a little expensive so I probably won't buy it often, but based solely on quality I give it a 9 out of 10.
The
Hawaiian Tropic Sheer Touch SPF 30
surprised me. It smells more like scented lotion than sunscreen which was nice. It goes on really smoothly with more than a little shimmer to it. It's a sheer bronze sparkle, but you can definitely notice it. My brother thought it was hilarious to model his shiny new tan when he tried it out for me. No one got burnt so the SPF 30 was great. With a reasonable price point ad solid results I give it an 8/10.
For leisure I decided to splurge and bring a
hammock
and a
floaty
. Usually I prefer to pack light, but in this case we are bringing a checked bag anyways and I figured I'd rather have some toys than extra clothing. I'll circle back after the trip and confirm if my over packing actually paid off!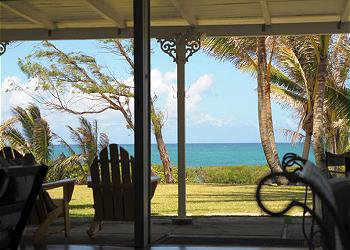 The view from our vacation rental. Here's hoping it actually looks like that!